Tracklist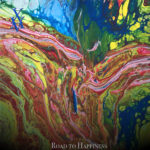 Road to Happiness
This track was recorded during the sessions for the album "Pentagramme" in 2016, I have reinvented it to integrate it into my current production. I thought it was both Metal on the intro and very positive Rock on the themes, it really is a track that shows the way to the road to happiness.
Ce titre avait été enregistré lors des sessions pour l'album « Pentagramme » en 2016, je l'ai réinventé pour l'intégrer à ma production actuelle. Je trouvais qu'il était à la fois Metal sur l'introduction et très Rock positif sur les thèmes, c'est vraiment un morceau qui montre la voie de la route du bonheur.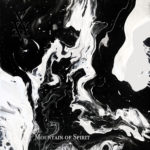 Mountain of Spirit
Recorded in 2019, it had not been selected on "Waterscapes", it is a rather Progressive Rock title with a spiritual color that I could not explain, I had the vision of this mountain of spirit.
Enregistré en 2019, il n'avait pas été retenu sur « Waterscapes », il s'agit d'un titre plutôt Rock Progressif avec une couleur spirituelle que je ne saurais expliquer, j'ai eu la vision de cette montagne de l'esprit.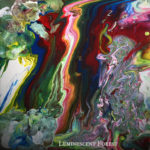 Luminescent Forest
Also recorded in 2019, it is the most Progressive Metal track on the record, it is an "epic" of almost 10 minutes, there are passages of which I am extremely proud from a melodic point of view. After "Waterscapes", the logical follow-up was "Earthscapes", I had to find and define the images of dreamlike places, the music lends itself well to this pedestrian trip in this luminescent forest. This is an idea that I took from a science fiction saga that I wrote 20 years ago (and which was set to music with my old project Nebuleyes) and in which this place existed already.
Enregistré également en 2019, c'est le titre le plus Metal Progressif du disque, il s'agit d'un « epic » de quasi 10 minutes, il y a des passages dont je suis extrêmement fier d'un point de vue mélodique. Après « Waterscapes », la suite logique prévue était « Earthscapes », il me fallait trouver et définir les images de lieux oniriques, la musique se prête bien à ce voyage pédestre dans cette forêt luminescente. Il s'agit d'une idée que j'ai repris d'une saga de science-fiction que j'avais écris il y a 20 ans (et qui était mise en musique avec mon ancien projet Nebuleyes) et dans laquelle ce lieu existait déjà.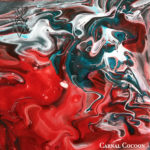 Carnal Cocoon
Coming from the same sessions as the previous ones, this title was to be sung initially. Finally the beauty of the music written in the style of film music lent itself well to the instrumental with an important presence of the piano and the keyboards. The title also comes, like the previous one, from the same saga and perfectly evokes this carnal cocoon, a place of life, protection, love, creation, a metaphor for the female belly.
Provenant des mêmes sessions que les précédents, ce titre devait être chanté initialement. Finalement la beauté de la musique écrite à la manière d'une musique de film se prêtait bien à l'instrumental avec une présence importante du piano et des claviers. Le titre provient également, comme le précédent, de la même saga et évoque parfaite ce cocon charnel, lieu de vie, de protection, d'amour, de création, métaphore du ventre féminin.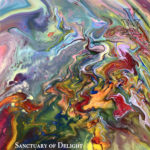 Sanctuary of Delight
This is a recently written acoustic piece played on a nylon string guitar the way I was composing for a project called "Magnific Senses". The music immediately reminded me of a "The Garden of Earthly Delights", the famous tryptic by Hieronymus Bosch that I adore also occurred to me.
Il s'agit d'une pièce acoustique écrite récemment et jouée sur une guitare à cordes nylon à la manière de ce que je composais pour un projet qui s'appelle « Magnific Senses ». La musique m'a immédiatement fait penser aux « Jardin des Délices», le célèbre tryptique de Jérôme Bosch que j'adore m'est également apparu.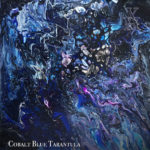 Cobalt Blue Tarantula
The most Metal of the album and the most dissonant track also composed last year, with interesting contrasts between the dissonances which give a terrifying aspect and the heavy and catchy melodies. Originally, I had this canvas painted with my son Andréa which reminded me of a spider by its appearance and which stood out well with the colors I had in my head and with this slightly scary cobalt blue tarantula.
La pièce la plus Metal de l'album et la plus dissonante aussi composée l'année dernière, avec des contrastes intéressants entre les dissonances qui donnent un aspect terrifiant et les mélodies heavy et entraînantes. A l'origine, j'avais cette toile peinte avec mon fils Andréa qui me faisait penser à une araignée par son aspect et qui s'imposait bien avec les couleurs que j'avais dans la tête et avec cette tarentule bleue cobalt un peu effrayante.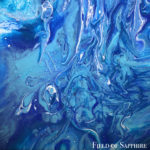 Field of Sapphire
A fairly fast tempo ballad, melodic with arpeggios in clean sounds. The blue appeared in my head instantly at the end of the recording in the year 2000, I always had a fascination with precious stones and following the creation of the cover in acrylic paint, the sapphire field prevailed.
Une ballade au tempo assez rapide, mélodique avec des arpèges en sons clairs. Le bleu m'est apparu dans la tête instantanément à la fin de l'enregistrement au cours de l'année 2000, j'ai toujours eu une fascination pour les pierres précieuses et suite à la création de la pochette à la peinture acrylique, le champ de saphir s'est imposé.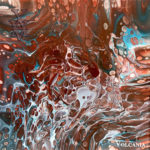 Volcania
Composed last year, this is the other very Progressive Rock / Metal "epic" of the album which is approaching 10 minutes and which made me think of the structure of an erupting volcano with its various fairly loaded parts evoking molten magma, painting followed.
Composé l'année dernière, il s'agit de l'autre « epic » très Rock/Metal Progressif de l'album qui approche les 10 minutes et qui m'a fait penser à la structure d'un volcan en éruption avec ses diverses parties assez chargées évoquant le magma en fusion, la peinture a suivi.